If you build it, they'll convert . . .
Answered Here:
The looming task of creating content for your current and potential customers doesn't have to be so complicated. Content pillars can provide structure for your content with a clear, established topic fleshed out in long-form text to be the reference for other content creation initiatives.
Get rid of the rushed, ad-hoc process when the content calendar catches up to you, whether you're doing B2B or in-house marketing. Building content pillars into your content marketing strategy will keep your brand messaging consistent and give your marketing team plenty of just-add-water pieces of content to share that are still quality and substantial.
What is a content pillar?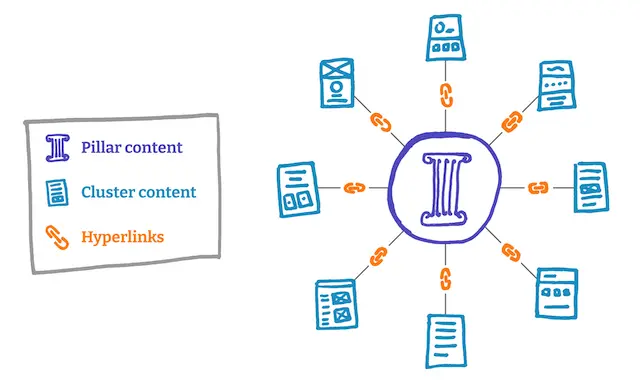 A content pillar is a comprehensive piece of content that informs its audience about a specific topic and can be broken down into multiple pieces for future use in various mediums across all channels.
Think of content pillars as a bulk item that can be split into bite-sized pieces of content with some format change, editing, and re-phrasing.
How to build a content pillar
What should a content pillar look like?
In short, a content pillar is typically found in the form of a long-form webpage, an eBook, a report, or a comprehensive article. Here are some details of what a content pillar should look like:
Mostly text-based
A content pillar is meant to be sizeable text, with about 4,000 to 13,000 words, while also incorporating multimedia content. Split the topics into subtopics and bring those outside the content pillar into other pieces for your website. The text in your content pillar should be thorough with broad enough subtopics for each to have its own, say, blog post, if you decide to.
Multimedia aspects 
Photos, infographics, and even videos are a must when creating a content pillar, and are particularly best for social media marketing uses among all platforms your company uses. After supporting your text with multimedia in the content pillar, you can use a graphic or picture for instance, add a captivating caption, and point the user to the content pillar or one of the other pieces of content stemming from it.
Internal links (boost SEO)
Make your content pillar clickable by pointing the reader to your other content with internal links. Having the content pillar interlinked with other pages on your website boosts your search engine optimization. Let them fall down a rabbit hole of information, but lead them to stick to your company's content and establish better thought leadership. After you've expanded upon subtopics in separate writings, edit your content pillar and add links throughout.
A main page on your website
While you could keep this content pillar as a blog post or article on a section of your website, consider making your content pillar a page listed among the others on your homepage. When presenting an option next to important pages like "contact us" and "get a quote," your visitors will see that the topic deserved its own page and you must have insight on it.
Steps to make a content pillar
1. Research your audience's interests
First, you need to know what makes them click. In other words, evaluate which kinds of content connect you to your audience. Pick the most relevant topics in your brand's wheelhouse, or from another expert you can learn from, where your content can answer the questions your audience may be asking. 
It's a good idea to look at your customer data using a CMS or DXP to see what content your audience is most responsive to and through what format and channel. Identifying the pain points and addressing customer questions can help you form an image of the customer.
2. Narrow to one topic
The best content pillars cover a topic that is relevant to the company's target audience with a high keyword search volume. Doing original research on your topic can increase traction on your website when you've put together an evergreen piece of content and have other blogs citing your content as a source. Stick to your niche, expertise, and what you know your audience needs to know.
3. Pick your subtopics
Remember to choose based on the content you want to see on your site after constructing the content pillar. Choose highly relevant questions to your company's niche that you can answer and provide plenty of insight on in separate texts. Double check your blog posts and other content for subtopics you've already covered and set your focus on untapped ideas.
4. Set clear goals
Understand what pieces of content you'll want to get out of the content pillar in the future. Brainstorm with your marketing team and list the specific projects you plan to cultivate from the content pillar.
5. Create/write/film
Gather your content writers, marketers, graphic designers, and whomever you want to present this content to build your content pillar. This is the time to discuss which multimedia assets you'll need, script a video, and outline all of your subtopics.
6. Organize and structure
So you've built this but it seems off; don't start demolishing your content pillar just yet. Take a step back from the details and look at the bigger picture: how is this gargantuan piece of content structured? Can I make this clearer for the reader/viewer? Should I take away or add subtopics?
Content pillar example
Your content pillar needs to be in-depth to make it go a long way on your content calendar. An eBook, report, or a longform page on your website are all effective formats of a content pillar.
An eBook is a common content pillar route; companies that want to share their expertise or tips for their niche can advertise a free eBook or PDF download. Offering free digital items is always a plus and an effective method to get the content pillar in your audience's hands. This is a great way to associate your brand with the information they're learning.
A web of content
A content pillar should work like a continually weaving spiderweb; in the beginning, you create the content pillar which is at the center of all the content that stems from it. They all connect by the internal links to subtopic content you provide in the pillar text.
How will your business benefit from a content pillar?
Simplify your content calendar
Content pillars make content creation more efficient and focused; you can generate many subtopics from one theme. This helps fill the gaps you may be missing in your content rotation, especially if your company struggles to find a place on social media, you can transfer subtopics to feed-friendly pieces.
Organic SEO ranking
Creating a web-based content pillar can enhance your search engine optimization. Linking to the subtopics you have covered elsewhere will assist the reader in taking a deeper look at the topic while staying within the bounds of your website.
Creating from the same content pillar, your messaging can be found in multiple formats across many channels. With your brand attached to this content, you can likely rank higher this way when someone searches for a topic you're discussing.
Establish consistent brand messaging
With a content pillar, you can produce quality content in various formats shareable for all of your marketing channels. Having your content pillar as a single source of truth for the derivative content you make will build off of the same messaging, making your brand messaging cohesive and consistent.
Content ideas to pull from your content pillar
Blog posts
When you add subtopics to your content pillar, those subtopics can easily be made into blog posts that can be shared through your various marketing channels and cross-referenced with links back to the content pillar. These blog posts can be the foundation to your display of knowledge as a company and show how much you know about your niche.
Social media updates
Use that pillar content, especially the visual media you've created, for social media posts. Give brief overviews of your content and signal your followers to the place where they can learn more. Post a clean, good-looking infographic with a link to the source (AKA your website), letting your audience know where they can learn more.
Infographics
Visuals are always a great way to grab the attention of your audience with useful information in a catching and digestible way. The world moves faster now than ever, so keep in mind that your audience may not have the time to read a full blog let alone a pillar of content, and infographics can be more effective depending on the topic.
Try turning that section from your content pillar into an infographic with a list or diagram, (also include it in the pillar to break it up), and watch how fewer eyes-glazed-over-analytics you see. These are also perfect for adding to your social media feeds and in email marketing.
Emails
Amidst deleting spam mail, we've all seen a marketing subject line that made us think: "Wait, what?" in a good way. With social media overshadowing the attention emails get, have a catching topic from your content pillar with a good subject line to stop their scroll. Email nurture campaigns are a great channel to weave in your content pillar subtopics broken down into smaller chunks or transformed into an infographic for the email's body.
Videos
Get creative with your content pillar and script a video with the material you've curated in that text. You could create short-form videos explaining various topics relevant to your business, show your different work processes, or give a tutorial on how to do certain things. 
Webinar
Speaking of video, a webinar is a great way to connect with your audience, provide a service, and establish leadership in your niche. A hands-on alternative to offering a free eBook or PDF, a webinar can be recorded and put on your website. The webinar could either be paid or free and a live, remote presentation or simply just recorded for later viewing. You can use your content pillar as an outline for the webinar where you explain the topic in a more engaging, face-to-face format.