Digital systems are evolving
Digital Experience Platforms (DXP) are quickly becoming a popular tool for any enterprise company hoping to compete in today's markets, and are already considered by many to be a must-have. DXPs such as Acquia DXP, Salesforce Experience Cloud, Adobe Experience Manager (AEM), Liferay, Sitecore, Optimizely, among others, offer companies a chance to install renewed visibility, awareness, and control over their business processes and marketing initiatives, and can be thought of as a full system of sales and marketing tools bent toward customer data, personalization, experimentation, assets, and analytics. 
But, in an industry rife with acronyms–DXP, CMS, CRM, CDP, DEM, the list goes on and on–you might have a few questions: What's the difference between a Digital Experience Platform (DXP) and my Content Management System (CMS)? Is my CMS and Customer Data Platform (CDP) integration still sufficient? What does a DXP actually do? 
We're glad you asked. In this article, we outline the central difference between a DXP and a CMS, highlight the benefits of making the switch to a DXP, and explain what these benefits can do for your business. 
What is the difference between a digital experience platform and a CMS? 
Well, this is kind of a trick question. 
A DXP isn't different from a CMS the same way a cat is different from a dog. In fact, it's probably more fair to think about them the same way you distinguish your entire body from just your hand–one is different from but central to the other.
But to throw out nuance for a moment and say it simply, here's the gist: A CMS deals solely with content, whereas a DXP incorporates the full extent of your marketing, sales, and business needs, including content management but also customer data, personalization, and e-commerce. 
Basically, a modern DXP can do everything that a legacy CMS can, but way more. It allows you to efficiently create, host, and distribute digital content across multiple digital experiences, all without being held back by the restrictions of single-site functionality, which is often the case with your standard legacy CMS.
Comparing DXP and CMS
Functionality - What does it do?
DXP: Integrated platform for managing digital assets and customer data, creating personalized digital experiences, and analyzing customer interactions. Remember: This includes CMS. 
CMS: Platform for creating, managing, and publishing digital content.
Personalization
DXP: Uses customer data to create personalized digital experiences, effectively handing your marketing team a kind of omniscient orb of top-notch marketing power.
CMS: Basic personalization such as targeted content and various SEO capabilities. 
Analytics
DXP: Provides comprehensive analytics on customer interactions across digital channels
CMS: Provides basic analytics such as website traffic (some SEO capabilities).
e-commerce
DXP: Integrates e-commerce capabilities such as online marketplaces, product management, and checkout processes
CMS: Basic e-commerce capabilities, but not as thorough as DXP
Digital asset management (DAM)
DXP: Digital assets are stored across the entire system. "One system to rule them," so to speak.
CMS: Assets are stored local only to your website's content management system. In other words, not linked throughout the entirety of your data and other processes.
Integration capabilities
DXP: Can integrate with other systems such as CRM, ERP, and marketing automation to provide a more unified and streamlined experience
CMS: Limited integration capabilities
But, remember: The above header is a trick question because CMSs are a component of your DXP. It's not quite a question of difference, but more so a level of transcending to the next echelon of running an enterprise-sized business online. The real question is if you're ready to move from your CMS and its basic integration capabilities and start using a fully composable and fluid architecture of integrated systems. Are you ready to start using a DXP?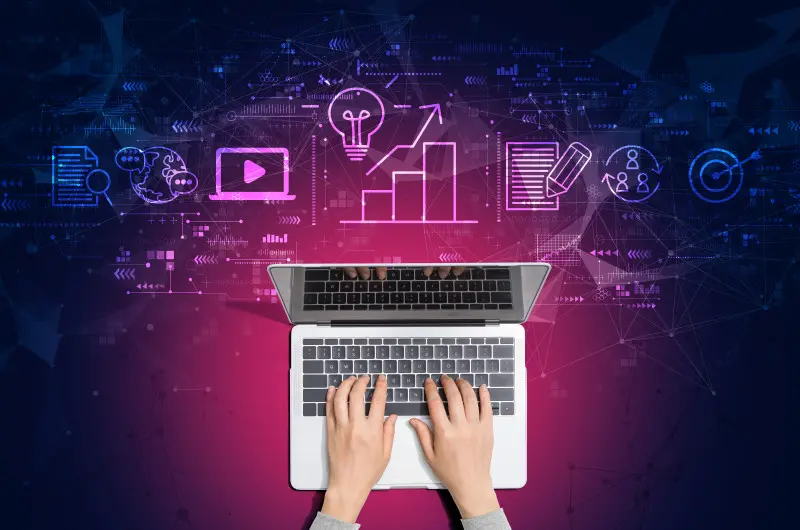 What exactly is a DXP? . . . 
. . . A fully composable marketing Megazord with the power to scale you like heck
A digital experience platform (DXP) is a type of software that integrates all of your digital marketing tools. Popularly–though some might argue vitally–these tools tend to include: 
CMS: Content management system

CDP: Customer data platform

DAM: Digital asset management:

e-commerce: Shopping, product management, purchasing

Search: Saas search platform with smart algorithms

Open APIs: Application programming interface

Personalization: Use data to make informed decisions based on demographic, behavior, and transactions.

Experimentation: Test your site to ensure UI/UX is delivering quality customer journeys
Together, these systems provide a cohesive and personalized digital experience for customers. The features of a DXP work together to eliminate information silos by giving businesses a unified platform for managing digital assets and customer data, and for creating personalized and relevant opportunities for engagement across websites, mobile apps, and social media. Implementing a DXP system can ultimately improve digital presence, increase customer engagement, and, most importantly, drive sales. 
And so, where the benefits of a simple integration between, say, a CMS and CRM, tend to only be felt by the business using them, a DXP goes a step further by aiming its benefits straight at the customer and reflecting back on the business who brought those benefits to their doorstep.
What an enterprise company can do with a DXP
Improve personalization
Leverage a comprehensive and personalized digital experience for customers by using your DXPs collected customer data to create targeted content, personalized recommendations, and tailored offers. This can help to increase customer engagement and drive more sales.
Fine tune experiences with omnichannel flows
Provide customers with a consistent and personalized experience across all of your business digital touchpoints–your websites, mobile apps, social media, and physical locations. This can help to improve customer engagement and loyalty across different channels. Give the world every chance to know your story. 
Piping-hot analytics
Track and analyze customer interactions across all of your marketing channels, providing your marketing team with valuable insights into customer behavior. This can help to make data-driven decisions to improve the customer experience.
Fluid e-commerce capabilities
Integrate vital e-commerce capabilities, such as online marketplaces and product management, enabling businesses to more effectively sell products and services online.
Integrate seamlessly with other systems
This is basically the whole point of a DXP–integrating with other systems, such as CRM, ERP, Marketing Automation and other systems, to provide a more unified and streamlined experience for both you and your customers. Build your Digital Marketing Megazord
Experimentation
This is an exciting one. Recently, highly advanced versions of DXPs have been engineered with the ability to run A/B tests on webpages, component functionalities, and more, to help businesses find the hard proof they need in deciding which online experiences should stay, and which should go. 
Bulletproof security
The right DXP system should provide bulletproof security features to protect customer data, transactions, and other sensitive information.
From CMS to DXP: Is it time to switch?
All of the above sounds really good in theory, but how do you know if you're ready to take the leap toward a comprehensive DXP system? A DXP implementation is complicated and expensive, so the answer varies case by case: Your company's size, product, processes, marketing needs, etc. But one way all business leaders can start to sniff out whether it's time for a DXP is ask yourself whether your current systems tools (CMS, CRM, CDP) are starting to underdeliver and underperform on the level you expect them to on a day to day basis.
But how can you tell if your current systems and tools are underdelivering and underperforming? Well, there are two places that DXP will help you excel: Content (product and marketing assets) and data (analytics, personalization, stats).
How's your content?
There's a certain level of best practices you need to hold your content creation to, and some CMSs just don't offer the level of functionality you need. If you're an enterprise-size company who has noticed your content creation isn't directly linked (and benefiting) your marketing and sales efforts, it might be time to start thinking about the advantages of DXP.
How's your data?
Centralizing data to ensure each of your departments make informed decisions is a key advantage of implementing a DXP. From marketing to digital development, analytics and data should serve as an integral resource for fleshing out the value of every move your company makes. DXP systems solve data silos with streamlined integration of the vital information provided by systems like CDP and CRM platforms. If your CDP to CRM connection is clunky, this is something that can be fixed with a DXP.
Learn more about DXP platforms
Interested in learning more about DXP platforms? We've been putting together a collection of assets to help you understand what a DXP is, what they can do, and help you make the right decision on whether it's time to implement. Enjoy!